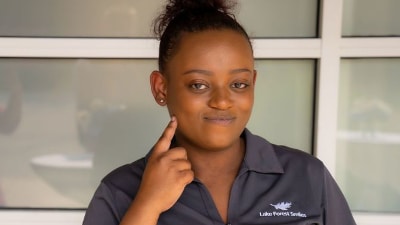 At Lake Forest Smiles, we strive to improve our level of care by remaining at the forefront of dentistry. From pursuing continuing education to fine-tune our skills or learn a new one to updating our office technology and bringing the latest tools in dental science into our facility to serve you. To that end, we are excited to announce that Lake Forest Smiles offers the BioPAK Diagnostic System, a leading-edge device used to diagnose TMJ disorder, and sleep apnea, as well as aid in other extensive dental procedures to ensure patients receive the best results.
How can your dentist use BioPAK?
Our experienced dentists in Lake Forest use BioPAK to monitor the range of motion and function of your jaw joints and chewing muscles.
Why does BioPAK have so many applications? Because it is a comprehensive diagnostic system. It uses different components and techniques to measure and monitor a wide array of different parameters within the stomatognathic system, which includes your teeth, jaws, and the surrounding muscles, and other soft tissues.
How BioPAK Works
There are several different components of the BioPAK diagnostic system. Let's take a look at each of them, what they do, and how they help your Lake Bluff dentist provide care.
Joint vibration analysis – The BioPAK evaluates jaw function, which is crucial in diagnosing TMJ disorder. The diagnostic tool evaluates the jaw joints as they move, identifying signs of friction or vibration, which can indicate issues with jaw function or the temporomandibular joint that suggests TMJ disorder. By being proactive, your Lake Forest neuromuscular dentist may be able to identify TMJ disorder even before identifiable symptoms manifest.
Electromyography – From muscle spasms to abnormal function to even tightness in the neck, BioPAK can identify many of these common muscular issues. When administered by a qualified technician or dentist, a medical professional can use BioPAK to evaluate the efficiency of the craniofacial muscular system by observing the position and movements of your mouth when at rest, chewing, and clenching your jaws. With this information, we will know the potential impact on muscle function from each dental procedure we consider. We also can identify the ideal resting position of your craniofacial musculature and use that information to create balance and harmony between the individual muscle groups. The results are a comfortable bite and open airway.
Jaw tracking – With the BioPAK, your Lake Forest TMJ dentists obtain accurate measures of your jaw movement. This tool employs three-dimensional imagery to obtain a comprehensive range of information and detect even the slightest jaw movements. Using this information, we can identify the optimal chewing patterns and identify any abnormal function in the jaw, including abnormalities that may go unnoticed during a standard visual examination by your dentist.
Record muscle activity – Using the BioPAK, we compile a record of craniofacial muscle activity in times of both rest and function. This tool uses an intuitive display, generating results that are easier to interpret than electromyography and allowing quick comparisons of bilateral muscles in order to determine the degree of jaw symmetry and function. We also can use BioPAK as a patient education tool to share diagnostic information.
BioPAK Diagnostics in Lake Forest
BioPAK is just the latest example of how Lake Forest Smiles use the most advanced means and tools in dental science to provide the highest level of care to our patients in the Lake Bluff, Lincolnshire, and Lake Forest communities of Illinois. You may want to learn more about the technology used at our practice or take a virtual tour of our office. If you're looking for a new dentist or a TMJ dentist in Lake Forest, call Lake Forest Smiles today at (847) 234-4800 to schedule a consultation.