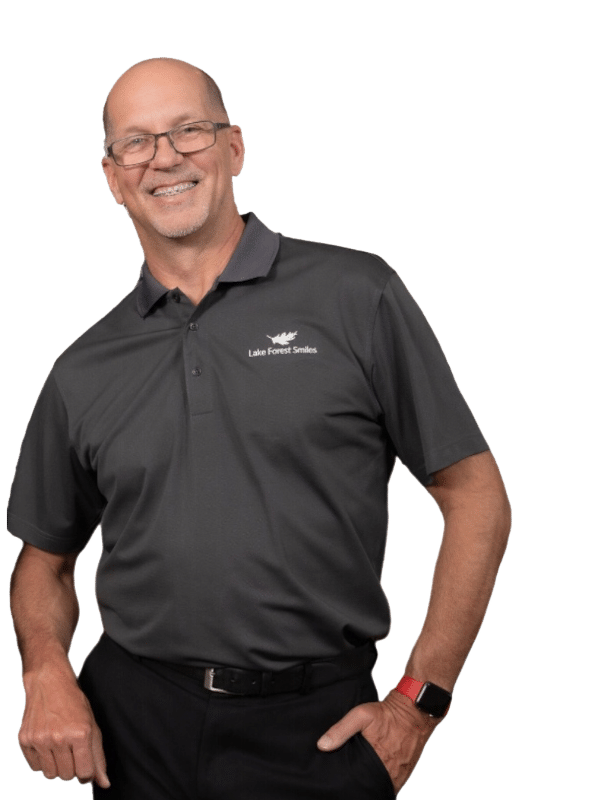 Dr. David Schmidt grew up in Indianapolis, IN. and graduated from Indiana University with honors in Economics then graduated from Indiana University School of Dentistry in 1994.  He has been fortunate to be involved with dentistry since he was thirteen years old. Dr. Schmidt started chairside assisting his father then. He worked with him until he and his family moved to Lake Forest 24 years ago.
Dr. Schmidt has been involved with many organizations over the years.  He has been involved/attended: The Las Vegas Institute for Advanced Dental Studies (LVI) , The Dawson Academy, The International Association of Physiologic Aesthetics (IAPA), The Breathe Institute, the American Equilibration Society (AES),  The Academy of Comprehensive Esthetics(ACE), American Academy of Cosmetic Dentistry (AACD), American Association of Dental Sleep Medicine(AADSM), The Center for Occlusal Studies, Illinois State Dental Society (ISDS), Chicago Dental Society (CDS), North Suburban Branch of the CDS, and the Indiana Dental Association.
Dr. Schmidt has constantly worked to improve his skills and averages over 150 hours a year doing continuing education.  This allows him to be current on all the latest advances in dentistry. He earned his Fellowship from LVI and also from the IAPA.   He is also one of the few Clinical Instructors for the prestigious Las Vegas Institute for Advanced Dental Studies. Dr. Schmidt assists in teaching doctors from all over the world on advanced cosmetic and physiologic dentistry.  Dr. Schmidt also lectures nationally on CAD/CAM dentistry. Dr. Schmidt is a past President of the International Association of Physiologic Aesthetics (IAPA).
Dr. Schmidt met his wife during dental school and married her shortly after graduation.  Mary Beth is a native of Chicago (she grew up in Elmhurst) and is a fellow IU graduate. She is an avid runner and a former NCAA All-American track star.  Today, most of her time is still devoted to their four children; identical twins born November of 1997, their youngest daughter in April of 2001, and their son born June 3, 2009.  Their decision to move to the north side of Chicago in late 1998 was an easy one. Callie, Kelsey, Courtney and Cole have lots of aunts, uncles, and cousins here, and they have always admired the area. They really enjoy exploring the coastline of Lake Michigan.  In his spare time, Dr. Schmidt enjoys boating, sailing, swimming, cycling, and rollerblading.
Dr. Schmidt truly looks forward to meeting each of you and getting to know you as a neighbor.