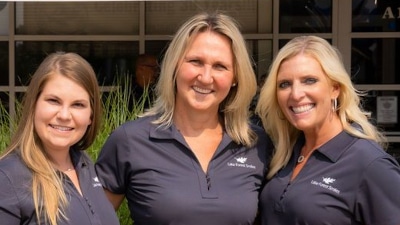 From professional dental whitening treatments to toothpastes and store-bought kits, there are many options out there for you to whiten your teeth. Typically, store-bought teeth whitening treatments only address extrinsic stains—the ones that form on the surface of your teeth—and prove ineffective against intrinsic stains, which are stains that penetrate beyond dental enamel. Lake Forest Smiles is proud to offer the KöR Whitening system, considered one of the best professional teeth whitening treatments in Lake Forest that removes extrinsic and intrinsic stains from your teeth.
What's the difference between intrinsic and extrinsic stains?
Extrinsic stains form on the exterior of your teeth. They usually develop based on what you eat and drink. Frequent consumption of coffee, tea, wine, and dark-colored fruits can stain your teeth—as can using tobacco in any form. Intrinsic stains can develop as a side effect of certain medications; tetracycline is well-known for causing intrinsic stains on teeth. Until now, many whitening products only remove extrinsic stains.
How does KöR work?
KöR is a deep bleaching system that whitens teeth up to 16 shades brighter without the need to expose your teeth to a bleaching light or laser. Using bleaching lasers to activate the whitening solution is more likely to cause tooth sensitivity. The whitening trays used in the KöR system are designed to form a tight seal against your teeth, preventing the infiltration of saliva, which can dilute peroxide and diminish the power of the active whitening agent. That seal means your teeth are exposed to 6 to 10 hours of fully concentrated whitening as opposed to other systems like strips, where the whitening agent may be diluted after as little as 25-35 minutes.
KöR employs the Tri-Barrel Hydremide Peroxide formulation and whitening gel delivery system. This keeps the components of the whitening system separated until they are mixed right before use. Isolating the ingredients allows the addition of more ingredients, if need be, leading to a more sophisticated, effective formulation.
These factors explain why KöR can tackle even the toughest stains, such as intrinsic ones caused by tetracycline or fluorosis, which are stains caused by the overuse of fluoride.
Why choose KöR whitening?
Some teeth whitening solutions, especially those found in stores, are more likely to cause teeth sensitivity. However, most patients report little to no sensitivity following a KöR whitening treatment. Meanwhile, you get a beautifully white, radiant smile that has long-lasting results and is completely safe for your teeth as well as your gums. Did we say long-lasting? KöR teeth whitening results in Lake Forest will last when combined with a good dental hygiene regimen at home, regular visits to your dentist for a cleaning every six months, and periodic at-home touch-up treatments. Plus, KöR whitening is safe for almost anyone, from teenagers to the elderly… anyone who wants to brighten up their smile.
KöR Teeth Whitening in Lake Forest, Lake Bluff, and Lincolnshire
Lake Forest Smiles is proud to offer KöR Whitening as part of our program of cosmetic dentistry. To find out if you're a good candidate for this whitening procedure, please schedule a consultation today by calling (847) 234-4800.